EXCELLENT CROWD FOR PITTSBURGH DECOY SIGNING
Oakmont's
Mystery Lovers Bookshop
was chock-full on February 6 to hear novelist Cal Thomas discuss and read from his thrillers
DECOY
and
A STRADIVARI AFFAIR
. Mystery aficionados from throughout the Pittsburgh area enjoyed refreshments, asked myriad questions and had their copies signed by the author.
Both novels feature the character Kyle McBride, whose adventures are fascinating more and more mystery fans.

In

DECOY

, McBride gets caught up in a terrorist plot to steal and detonate multiple nuclear bombs in several European cities. Our hero's hunches pay off and he surprises everyone with his plan to thwart their sinister scheme.

A STRADIVARI AFFAIR

leads Kyle and his friends on a wild chase from New York to Paris and Brussels to outmaneuver a band of crafty and murderous thieves.
For those who missed the opportunity get copies, for the next month,
Mystery Lovers Bookshop
is offering free shipping for signed copies of both books.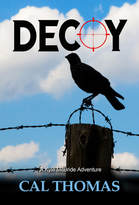 LATEST RELEASE!
London is devastated after two acts of terror within days of each other.
After a chance meeting between Kyle McBride and one of the jihadists, they take direct aim on
Kyle and hurt one of his own instead. Kyle goes on the defensive, and he knows the game better
than the terrorists could ever guess. But what he finds out is devastating. Will the help of some pals from
Kyle's days as a "spook" be enough to prevent a massive multi-city jihadi victory over the West??
Police corruption and cover-ups, intrigue, murder, and terrorist bombings all factor into this modern-day thriller. Available from Taylor and Seale Publishers or at Amazon in Paperback.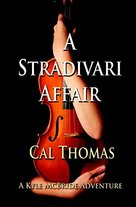 Inspired by a true story. Subversion, theft, and murder drives TV producer and former intelligence agent
Kyle McBride into a hunt for a killer through New York, Paris, and Brussels, leaving bodies, a jilted lover,
and a lifetime of crushed dreams in his wake.
Available from
Taylor and Seale Publishers
or at
Amazon
in
Paperback
or
Kindle e-book
editions.
​